How to Clean Carpet: From Vacuuming to Steam Cleaning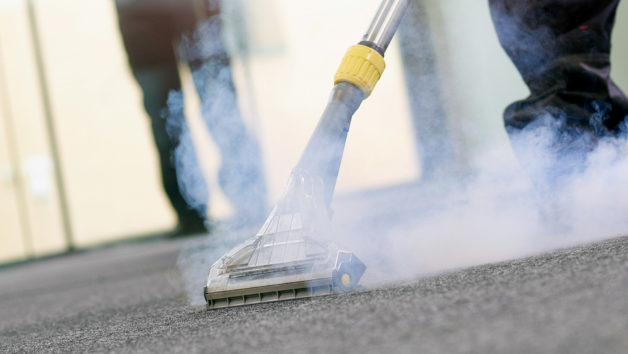 The spring sunshine is finally streaming through your windows—and shedding light on just how dirty and dingy your carpets have gotten over the winter. It's not your family's fault that your carpets endured the daily trampling of muddy sneakers and wet boots—it's just the nature of winter weather. Whether your carpets need a quick vacuum or a rejuvenating deep clean, it's wise to know how to clean carpet the right way.
"A lot of dust, pollen, dirt, and particles get trapped in the carpets, especially during the winter," says John Bodrozic, co-founder of HomeZada, an app that provides year-round maintenance schedules to help keep your home running efficiently, safely, and healthfully. "So you want to not only preserve the carpets, but also keep healthy air quality in the home."
How often should you vacuum?
The best way to keep your rugs looking fresh and plush is to vacuum them regularly—at least weekly, or more often in high-traffic areas. Regular cleaning prevents dirt from getting ground into the carpet loops.

Related Articles
12 Things You Should Never Forget to Deep-Clean
Learning the Lingo: Unravel the Real Words for Carpets and Rugs
Spring-Cleaning Time! 6 Things You Never Clean but Really Should
To cut down on the dirt coming into the house, place mats on each side of entry doors and ask everyone to remove their shoes when they enter. Keep a basket of socks or slippers at the door so your guests' tootsies won't freeze.

How to deep clean carpet
When grime and stains accumulate on your carpets and rugs, you'll have to give your vacuum some extra oomph.
A quick, low-cost way to freshen carpets is to amp up your vacuum with rug-cleaning products—powders, foam sprays, and liquid shampoos available at grocery and hardware stores. For the most effective clean, follow the manufacturer's instructions.
For stained areas, use a bristled brush to work the cleaning solution into the carpet before allowing it to dry and then vacuuming up.
If you're using a rug shampoo diluted with water, avoid getting the carpet too wet, which can lead to mold and mildew growth. If you have a wet-dry vac, use that to vacuum shampooed carpets, which will get them extra dry. Or you can buy your own shampoo vac for as little as $90 to $200, which scrubs and sucks up dirty water. Consider models with smaller attachments so you can clean upholstery and stairs, too.
Rent a carpet cleaner
For a deep clean of embedded dirt, rent a powerful industrial-style carpet-cleaning machine, like a Rug Doctor, which sprays hot water with a detergent over the carpet and extracts it with a high-powered vacuum. These have more washing and sucking power than most consumer carpet cleaners. But they're expensive to buy—$400 to $700—so it's probably more economical to rent one from a hardware store for about $25 to $30 per day.
Transporting the equipment and operating the machine can be cumbersome, but it does a better job cleaning your carpet than a regular vacuum cleaner and is less expensive than hiring a professional carpet cleaner.
When using a high-powered cleaner, follow these tips:
Buy a cleaning solution especially designed for your type of machine and carpet (wool or nylon).
Test a small area before tackling an entire room.
Check your carpet manufacturer's website for guidance on how often to clean it.
Once completed, if the chemical smell lingers, take a second pass on the carpet to rinse. This is especially important if someone in your home has respiratory problems.
To speed up drying, turn on the AC, train fans on the area, or open windows.
Hire a professional carpet cleaner
Another option is to hire a professional carpet cleaning company that uses steam or chemical cleaning equipment. Chemical cleaning uses a liquid that encapsulates the dirt into crystals, which are vacuumed away, allowing the carpet to be walked upon either immediately or within a couple of hours. Steam cleaning forces water into carpet fibers, then sucks it up. Carpets stay wet for six to 24 hours.
Costs differ by location; companies may charge by square footage or by number of carpets or rooms.
Most companies charge a minimum of $75 to $109 for carpet cleaning, says CostHelper. Chemical cleaning for 650 square feet of carpet costs $124 to $240; steam cleaning the same area costs $100 to $208.
Be prepared to pay more for carpeted stairs, since they take more time and effort to clean.
Source Links
http://www.realtor.com/advice/home-improvement/how-to-clean-carpet/